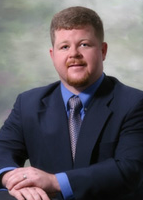 The Doctor
Dr. Andy Whiddon, D.C.
Doctor of Chiropractic


I am proud to be a lifelong resident of Alabama. I am thrilled to be the owner of Lincoln Chiropractic and Wellness Center. I thoroughly enjoy being a Chiropractor and Acupuncturist. I have a B.S. in Biology with a minor in Psychology from UAB. I graduated Summa Cum Laude and first in my class from Texas Chiropractic College. I am a member of the Omega Psi Honor Society, American Chiropractic Association, Alabama State Chiropractic Association, Jefferson County Chiropractic Society, Greater Talladega Area Chamber of Commerce, Kiwanis Club of Talladega, and Lincoln Business Associates. I served as the vice president of the Chamber in 2010 and as the President in 2011 as well as serving as the vice president of the Kiwanis Club in 2011. I also served as a delegate on the board for the Alabama State Chiropractic Association. Additionally, the Alabama State Chiropractic Association awarded me "The Young Chiropractor of the Year" for 2014.
Chiropractic was an easy career choice for me because I have always had a natural desire to help people coupled with a keen interest in the anatomy and physiology of the human body. I look forward to making a positive impact on this community by educating people on how to live healthier lives. I welcome the opportunity to serve each and every one of you for your healthcare needs.